Experienced Reefer
Vendor
Did you know that LRS goes to great lengths to guarantee the quality and freshness of our aquarium foods.

LRS has built our reputation based on transparency and relentless innovation to produce the most advanced "all-in-one" frozen food available in the hobby. It is very easy for consumers who may be new to the hobby or even seasoned hobbyists to get overwhelmed with all the frozen food choices at the local fish store.*LRS continues to be an innovator in the specialty food arena and we feel our quality and stringent manufacturing protocols set us apart from other foods.

Here are a few key points to consider when choosing which "all-in-one" aquarium food to feed your fish.

The purity and freshness of our ingredients is second to none in our industry.
Each week LRS receives two deliveries of fresh seafood which is sourced from an FDA approved restaurant supplier. All harvest permits and receipts are logged and our processing site was recently visited by the FDA inspectors. We passed the spot check with flying colors! We do 100% of the seafood processing within days of the shrimp, scallops, clams, oysters, etc being harvested from the water. THAT freshness is why so many hobbyists experience a strong feeding response with our foods.*




LRS is the only frozen blend containing genuine PE Mysis? Shrimp.
LRS is the ONLY specialty food manufacturer given permission to use their nutrient rich mysis shrimp in our frozen foods. Supplementing with mysis shrimp increases the "good" fat content of the blend which increases the health of your fish. Each pack of LRS food proudly displays a PE Mysis? logo in the upper left hand side of the label.




LRS has certified lab tests on file and is fully insured.
LRS has guaranteed analysis tests performed on every blend with the test results printed on each package. We also have complete fatty acid profiles on file for Fertility and Fish Frenzy? blends. The Fatty Acid tests were completed at the request of marine fish breeders so they could see the exact levels of the DHA content in our foods. In addition LRS is fully insured with TWO MILLION dollars of product liability coverage per occurrence. When you are supplying foods to public aquariums and exotic fish collectors around the globe details such as insurance is what solidifies LRS as a trusted brand. The small details such as online logging of our freezer temperatures,*stringent quality control, and processing methods mean a lot to our finicky clients.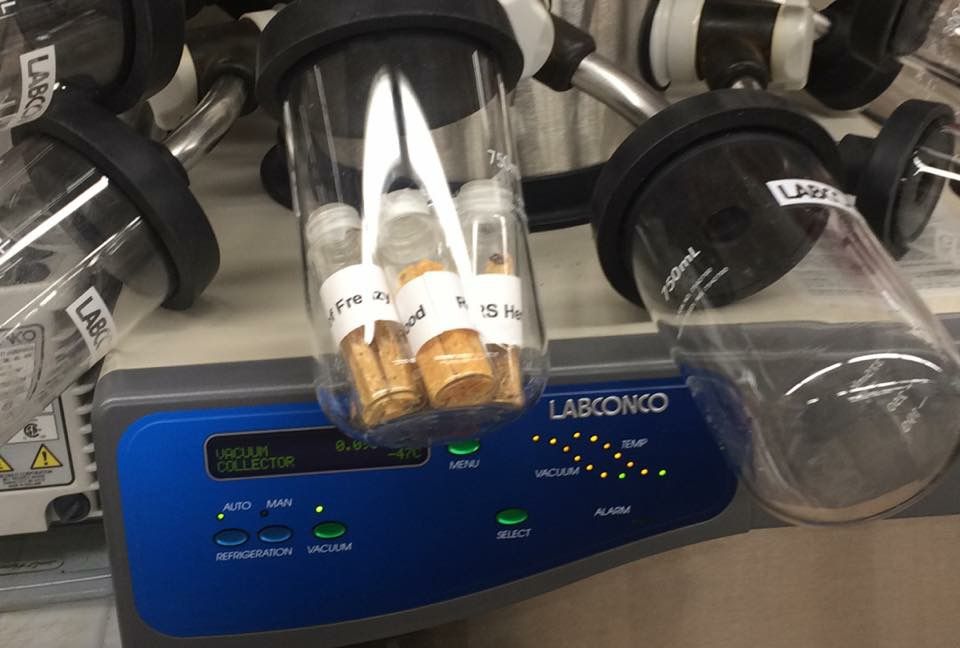 LRS is endorsed and used by professionals and public aquariums.
Public aquariums have their own culinary staff who do food prep on a daily basis, yet our customer list of nationally known aquariums grows each month. Curators are purchasing our foods because they recognize the benefits our foods provide*Did you see the talk at MACNA*regarding the "Twilight Exhibit" at the*Steinhart Aquarium? LRS feeds that exhibit which contains the one of the rarest fish in captivity on the planet. When the video of the presentation is*uploaded I will share it on R2R.

LRS continues to be named in more and more successful captive breeding programs and our Fertility Frenzy? is now an aquaculture "go to" feed. At the recent Rising Tide annual meeting LRS was named by several researchers as their preferred commercial food for conditioning broodstock for breeding. These accolades from universities and public aquariums do not happen if the product doesn't perform.




We had a behind the scenes tour at the Tropical Aqua Lab before the blue tang captive breeding success was announced. LRS Fertility Frenzy? was the food used to condition the broodstock.




LRS continues to innovate, evolve and raise the bar.
Over the past years our blends have been tweaked and refined with guidance from the scientific community. For example, the deletion of garlic from all of our blends starting in 2016 was a direct result of feedback from aquatic professionals. The "immunity boosting" properties of garlic are not based on fact but rather anecdotal reports that seem to perpetuate online. Food makers continue add garlic to marine foods*because the public continues to believe it "cures" their fish and they fear if they do not add it consumers will chose a product which DOES contain garlic. It is really a case of the tail wagging the dog. Studies now indicate garlic in foods can possibly cause organ damage to marine fish since this terrestrial substance cannot be processed effectively. We are always striving to produce the best foods possible and we make enhancements based on the most up to date scientific data. When the people I trust who are leaders in our hobby give me advice to make our products better I listen and proceed accordingly. We didn't make any big announcement about deletinggarlic and the reports of our foods being successful with finicky eaters continued to roll in so I don't really think it is necessary to add it as a feeding stimulant.

More about garlic in diets can be found here:http://www.reefkeeping.com/issues/2005-10/sp/

Probiotics are here to stay.
LRS first began experimenting by adding active probiotic cultures to our foods in 2013. Now many other frozen food makers have begun to do the same, although the practice*has been used in aquaculture for many years. Probiotics are being accepted as something which can provide benefits to our aquarium fish. LRS has over three years experience with supplementing probiotics and this continues to separate our products from many others on the market.

You can learn more here:http://www.larrysreefservices.com/probiotics.html

LRS is an industry partner to over 400 independently owned aquarium stores worldwide.
Over the past 4+years we have introduced our foods to hundreds of store owners who have then shared information about our products with their customers. If you are reading this you are likely one of them. One of the messages conveyed back to us frequently is that our foods have helped REDUCE LOSSES of livestock by coaxing new arrivals to eat. Not only does this help get the fish conditioned for sale, but it also saves the store owner money by reducing fish losses with shipments. We enjoy the ongoing communication with our store owners and we really appreciate all of our fans. My Fed Ex driver, well he might not like you all so much!




I would like to thank all of our fans and friends in the MR community for your continued support. If you have taken the time to read the above it means you truly care about what you are feeding your fishy friends and I hope you can see that LRS goes through great lengths to provide you with the best products possible.

Thanks again,
Larry DuPont
Owner, LRS Foods LLC