Experienced Reefer
Vendor
This past weekend I had the privilege to attend the Marine Breeding Initiative workshop in Michigan. This event is attended by both hobbyists as well as marine biologists, public aquarium personnel and vendors. Most in attendance are working towards the common goal of advancing the hobby through captive breeding efforts of marine species. LRS was a sponsor this year and since we also sponsor the Rising Tide Conservation efforts I wanted to go hear first hand what is going on at the cutting edge of the hobby.
As many folks in our hobby know there is a big push to successfully breed blue and yellow tangs in captivity. These pelagic spawners have proven to be increasingly difficult to raise the larvae past 1-2 weeks with regularity. Kevin Barden is a marine biologist who works at the Tropical Aquaculture Lab in Ruskin, FL and was a featured speaker at MBI.
Kevin mentioned during his talk that the blue hippo larvae are
repeatedly growing past previous bottlenecks since the broodstock have switched exclusively to LRS "Frenzy" foods in February 2015
. The probiotic component to our foods is now front and center and I have since been contacted by other Rising Tide affiliates who are interested in trying our foods. Now I am not gonna say our foods are gonna be the holy grail which "cracks" the secret code to get the larvae to settlement, but I will keep tweaking the new broodstock food under development to provide additional benefits.
Our next "project" involves seeing how our foods do at the Oceanic Institute in Hawaii with the Yellow Tangs as described here:
http://risingtideconservation.blogspot.com/2015/05/update-on-yellow-tang-research-at-oi.html
There is no doubt that ultra-fresh ingredients which have a diverse amino acid and fatty acid profile can have a profound effect on broodstock metabolism which bolsters egg quality the robustness of the larvae. LRS is rapidly getting the reputation as a superior food for both finicky eaters as well as to condition broodstock due to the complete nutrition in each package.
I am so fortunate and thankful to be involved with these exciting programs and getting the input to push our foods to the next level for aquaculture.
Here are a couple photos Kevin forwarded me to share of the blue hippo larvae.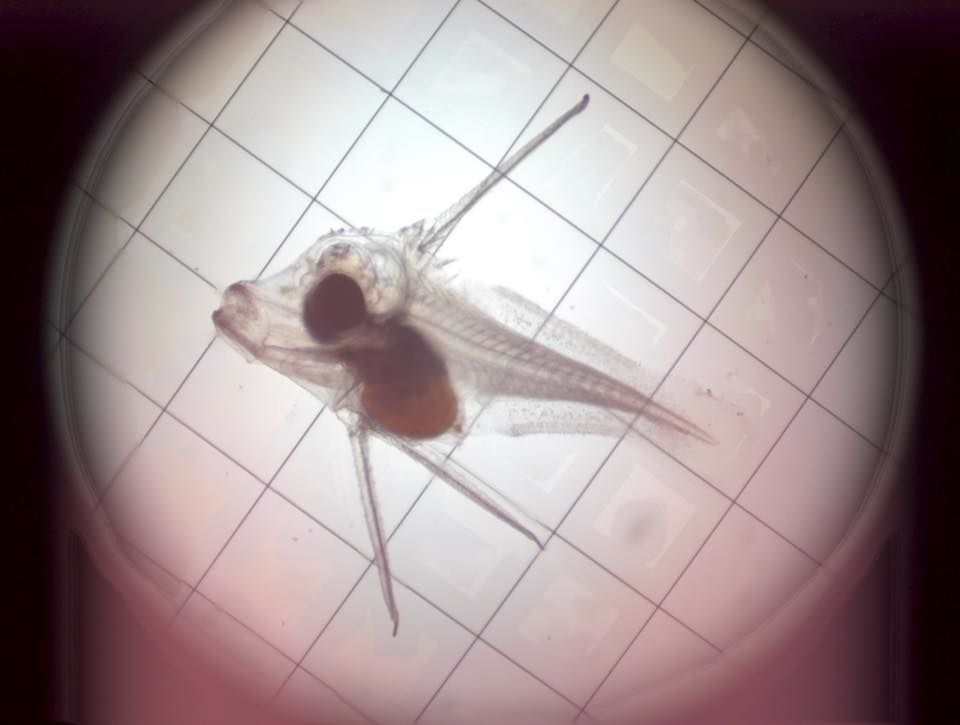 It was kind of neat to see our foods displayed on the big screen!
You may recall I did a post back in April 2015 regarding the captive bred melanurus wrasse which Kevin Barden also talked about at MBI. LRS Reef Frenzy was one of the staple foods used for the broodstock in that project as well.
The link to the article with videos(!) can be found here:
http://risingtideconservation.blogspot.com/2015/04/breaking-internet-check-out-our-wrasses.html
This was a photo I was able to catch during Kevin's talk about the melanurus wrasses.
Thanks for following along and supporting LRS Foods! We will continue to do our best to give back and support the hobby by providing foods to the facilities which are working to sustain the hobby for our future.
Larry
Last edited: