Experienced Reefer
Vendor
Well folks it has been almost 6 months since we started adding live California blackworms and fresh marine fish eggs to our Fish Frenzy? blend so I wanted to report some feedback. There have been several recent posts about feeding copperband butterflyfish so I figured I would throw some information out there which may help someone searching for food choices. Obviously, as with any delicate species what works well for one may not work for another, but at least I can share some success stories.
If you are not familiar with the LRS line of frozen foods the Fish Frenzy? is our basic starting point for all the blends. It has no veggies or coral specific micro-foods added so it makes a great daily food for omnivores. We felt that based on the proven track record of that food if we added a decent amount of blackworms and fish eggs we could make it even better. So in January after the lab work was completed we printed new ingredient labels to reflect the addition of the two ingredients and the increase in protein to 18%.
Well since being released we cannot keep the food in the freezers for more than a few days before it sells out!! LRS has become the "go to" food for many people when they bring home a new fish with a reputation of being difficult to acclimate.
The response from store owners using it to acclimate new arrivals as well as hobbyists claiming success with finicky eaters has been overwhelming. The fresh ingredients in the blend such as clam, oyster, scallop, shrimp, perch, PE Mysis?, plankton, etc combined with the blackworms and fish eggs literally has fish eating out people's hands within a couple feedings in some instances.
We recently began providing food for
www.Tenji.com
whose website showcases some of the most amazing public aquarium exhibits from around the world. Photographs of their office aquarium have ended up in several places, including
Neptune
Systems product brochures. We received this testimonial from Tenji, Inc last week:
"Your food is amazing. I have a Copperband Butterfly that would ONLY eat PE mysis and turned his snout up at everything else I tried. In addition, it was picky and had a hard time competing with others in the reef tank. I had to over-feed my tank just to make sure it was getting enough food in its belly. After two days of feeding Reef Frenzy, it's aggressively eating just about everything in the mix and holding its own at mealtime. Now I can dial back my feeding to a more reasonable amount and not have to worry as much about nutrient levels."
Mark Faulkner
Tenji, Inc.
In addition to the many testimonials on the
www.ReefFrenzy.com
website there is a Media Gallery which features videos from around the world. In this video a copperband is picking at a piece of frozen LRS food:
https://youtu.be/DjXl8CyUsUU
One of our friends has a beautiful aquarium and has been lighting up Facebook with images of his fish and corals.
Brad noted a marked improvement in colors and vibrance after feeding LRS to this angel for several weeks and attributed it to the change in diet.
In addition to helping finicky eaters take to a frozen food more readily there is an added benefit found in the "enhanced" Fish Frenzy? blend. Eggs! I'm not talking about the ones in the food, people are getting a LOT more EGGS from their clownfish!
There is a Facebook group called "Clownfish Breeding USA" were several of the members are reporting record numbers of eggs after switching to our foods. A nutritious broodstock diet can have a profound effect on egg numbers and the results seem to speak for themselves. In addition to aquaculture programs at the Universities having success with LRS, for we are now gaining a large segment of the "hobby breeders" as repeat clients.
Speaking of breeding, in April the Rising Tide Conservation Project announced the successful breeding of the melanurus wrasse at the Tropical Aqua Lab in Florida. LRS Reef Frenzy? was named in the project as a primary food for the broodstock.
http://risingtideconservation.blogspot.com/2015/04/breaking-internet-check-out-our-wrasses.html
We were able to visit and see the project underway as well as feed many fish.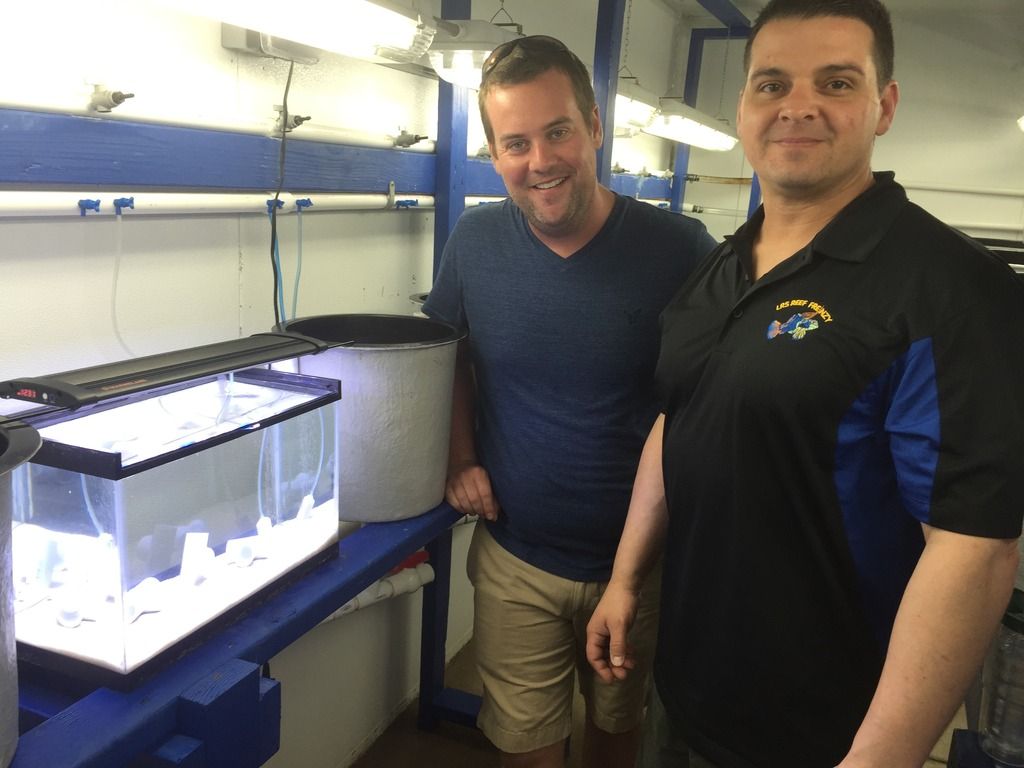 Looking at the eggs which are collected on a regular basis:
In case you missed it when I posted before, here is a video of my wife feeding several beautiful Emperor Angels LRS at the Tropical Aqua Lab. They continue to use LRS throughout the facility and are very pleased with the results.
https://youtu.be/fcwepm67ubY
It had been a little while since I posted an update so thanks for reading along in the lengthy post. LRS continues to grow our dealer network both in and out of the US. We have hired additional staff to meet the growing demand for our products, both for retail sales and commercial and public facilities. You can enter your zip code on this map to see if you have a stocking LRS dealer in your area.
http://www.larrysreefservices.com/where-to-buy-lrs.html
If you have no local LRS dealer you can email us from the website "Contact" page and we can work a solution for you to obtain food.
Thanks as always for the support from our fans and the LRS Facebook page continues to grow as we near 5,000 followers! We post updates often and you can find more videos and photos of our daily activities at
http://www.facebook.com/LarrysReefServices
In January we became national distributors for the entire line of PE Mysis? products and we have been kept very busy, especially since the release of the new Calanus decapod. Our cold storage warehouse is stocked up with plenty of mysis shrimp since 2 more pallets just arrived!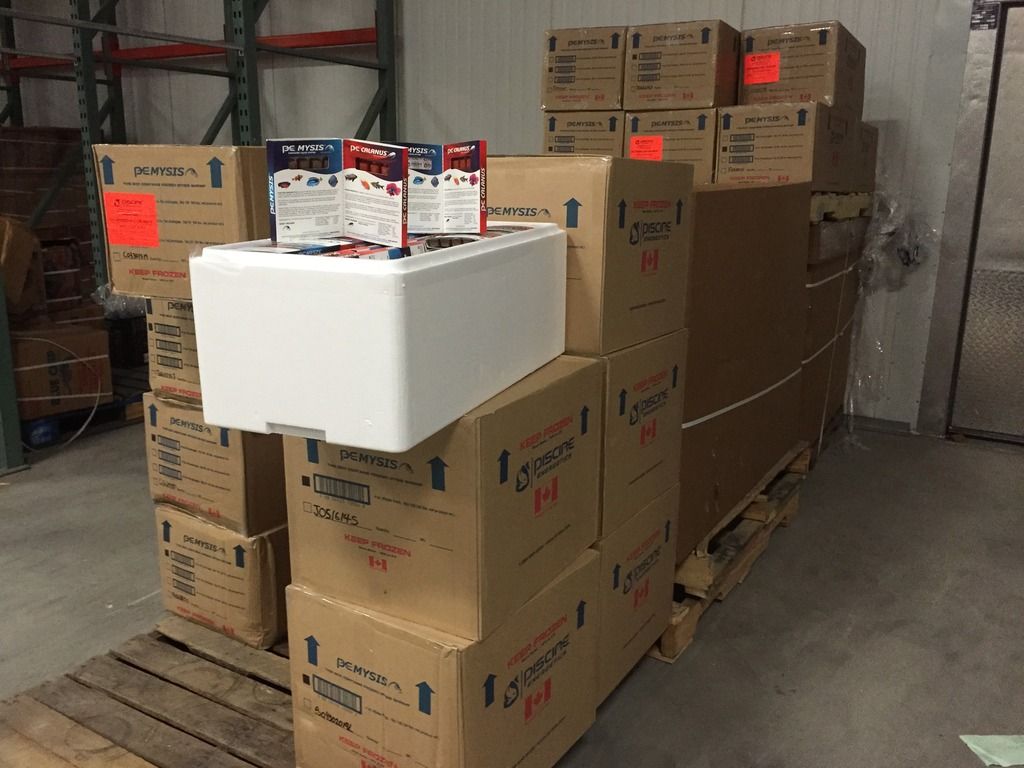 Thanks again!
Larry